WELL IF YOU DON'T KNOW NOW U WILL.....
(i stoll some dates from the HEADLINA TRACKS DAYZ BOO-YEH)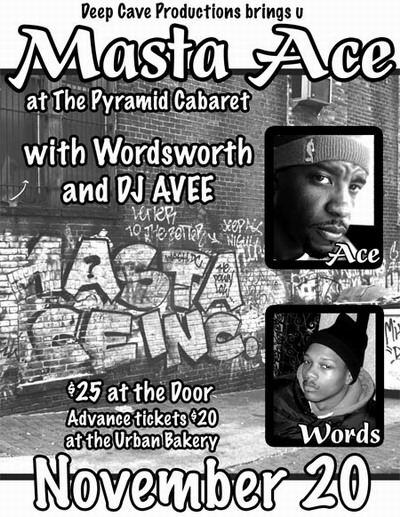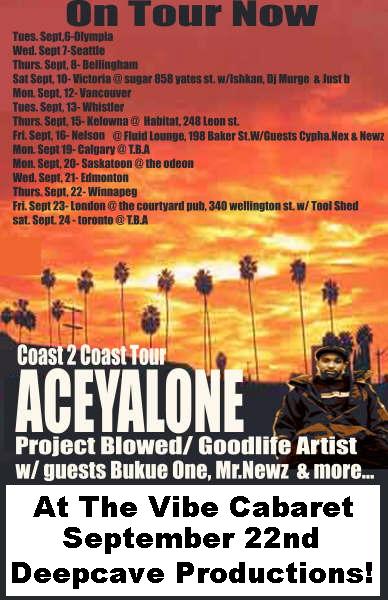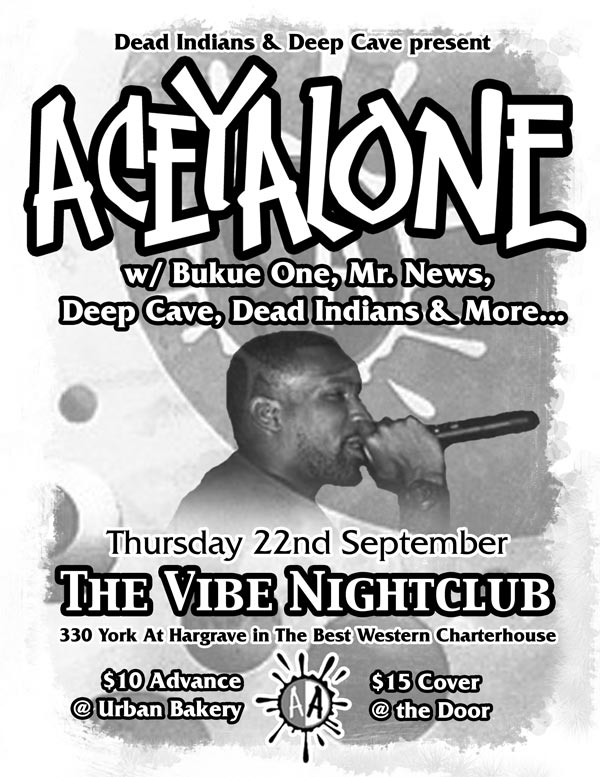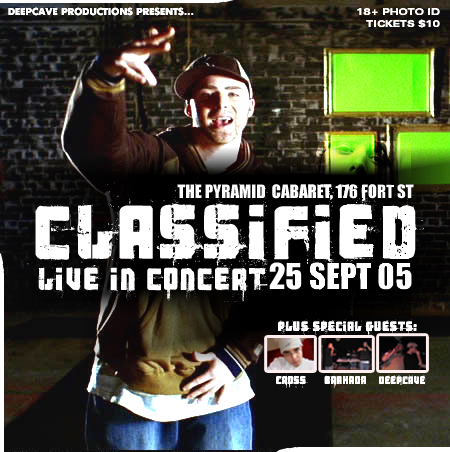 PICS FROM DEEPCAVE PERFORMING AT SERENDIPTY 2....
( aug.27th @ grand beach entertainment center )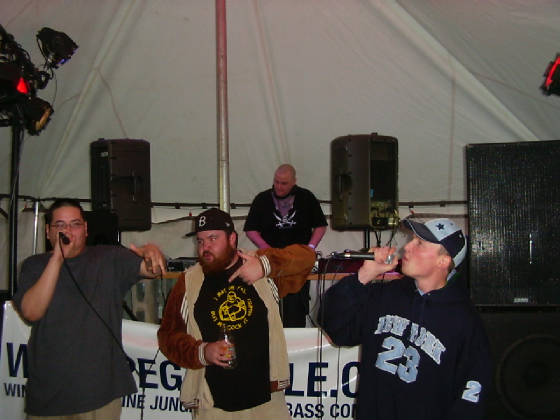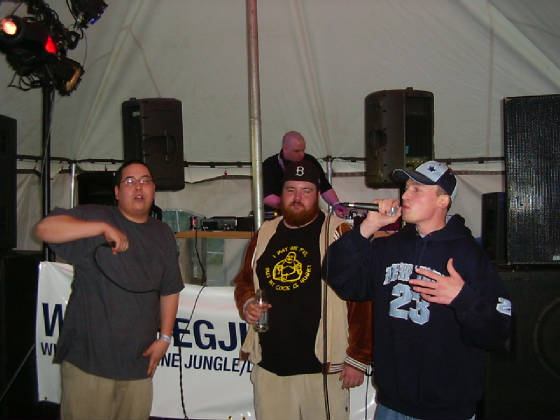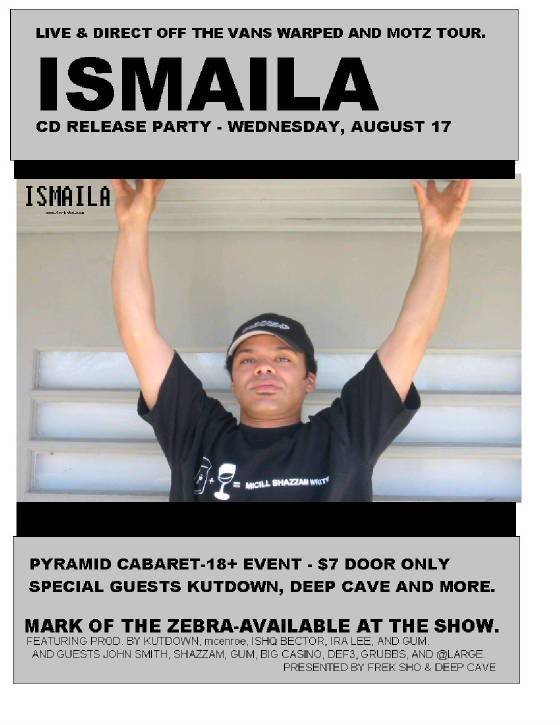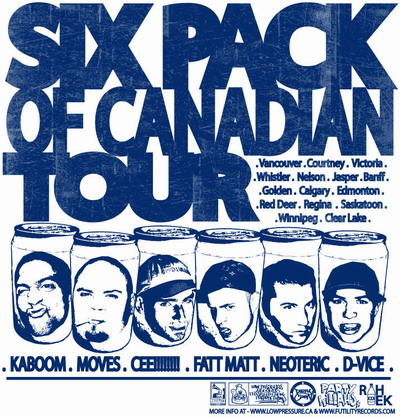 August 1 Lamp Lighter Vancouver
40 and big Bear
with/ Scrach Bastid
Friday Aug 5th ODEON EVENT CENTER Saskatoon
LUCKY I AM PSC/ELIGH/SCARUB
40& Big Bear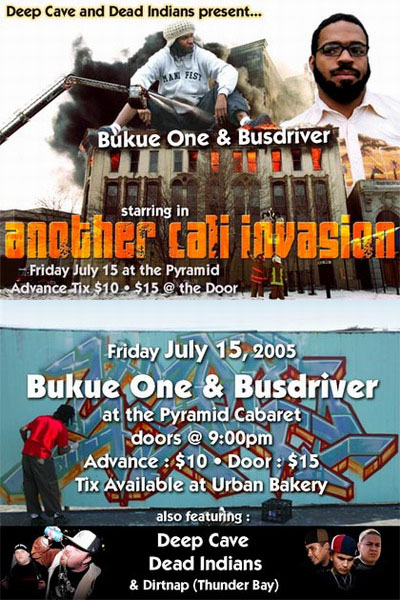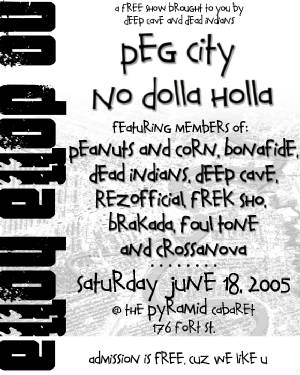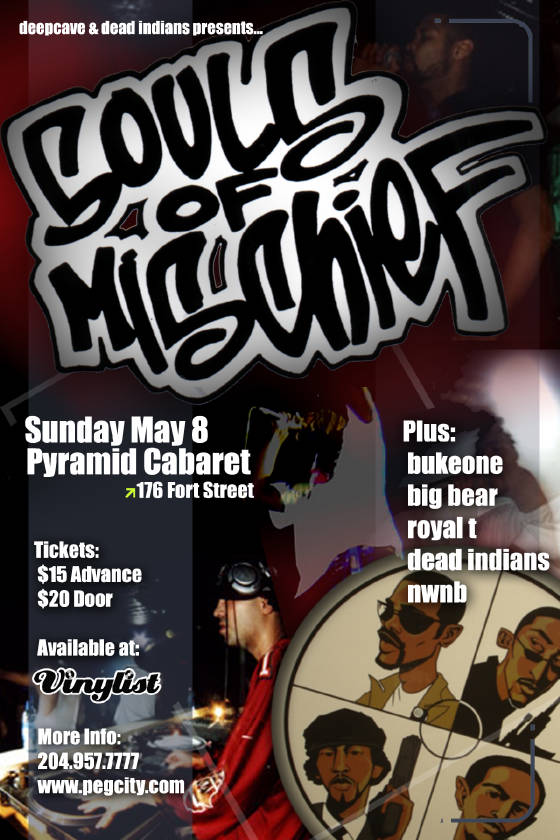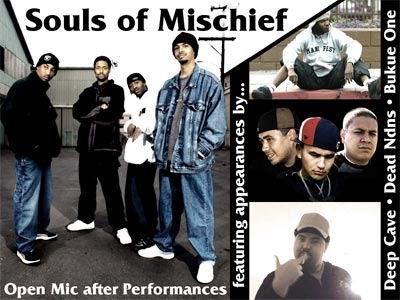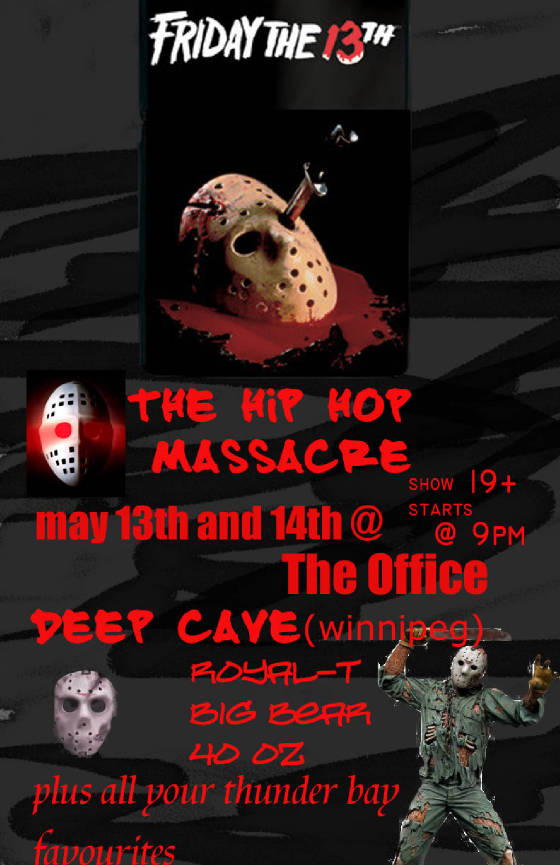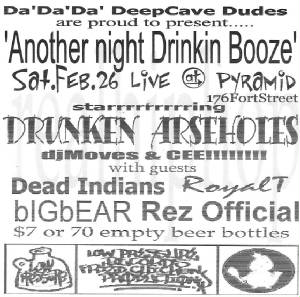 Feb 26. 05 @ Pyramid
Drunken Arsehole
featuring Dead Indians, Hell'n'Back, Royal T, Big Bear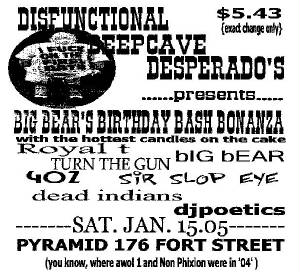 Jan. 15, 05 @ Pyramid
Big Bear
featuring Royal T, Turn the Gun, Dead Indians, Slop eye, 40z, dJpoetics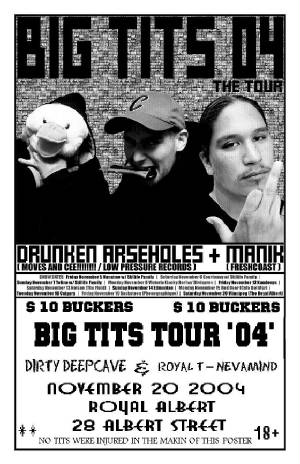 November 20, 04 @ Royal Albert
Drunken Arseholes / Kaboom
featuring Big Bear, Slop Eye, Poetics, 40z, Royal T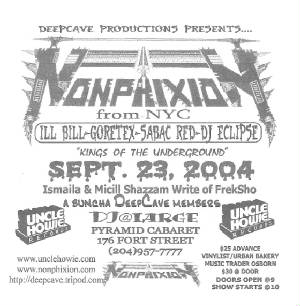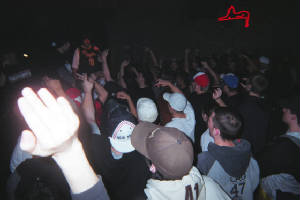 best show ever in Winnipeg
most money i ever lost in my life
Sept. 23. 04 @ Pryamid
Non Phixion
featuring....... @large, Ismaila, Shazzam, Big Bear, 40z, dJpoetics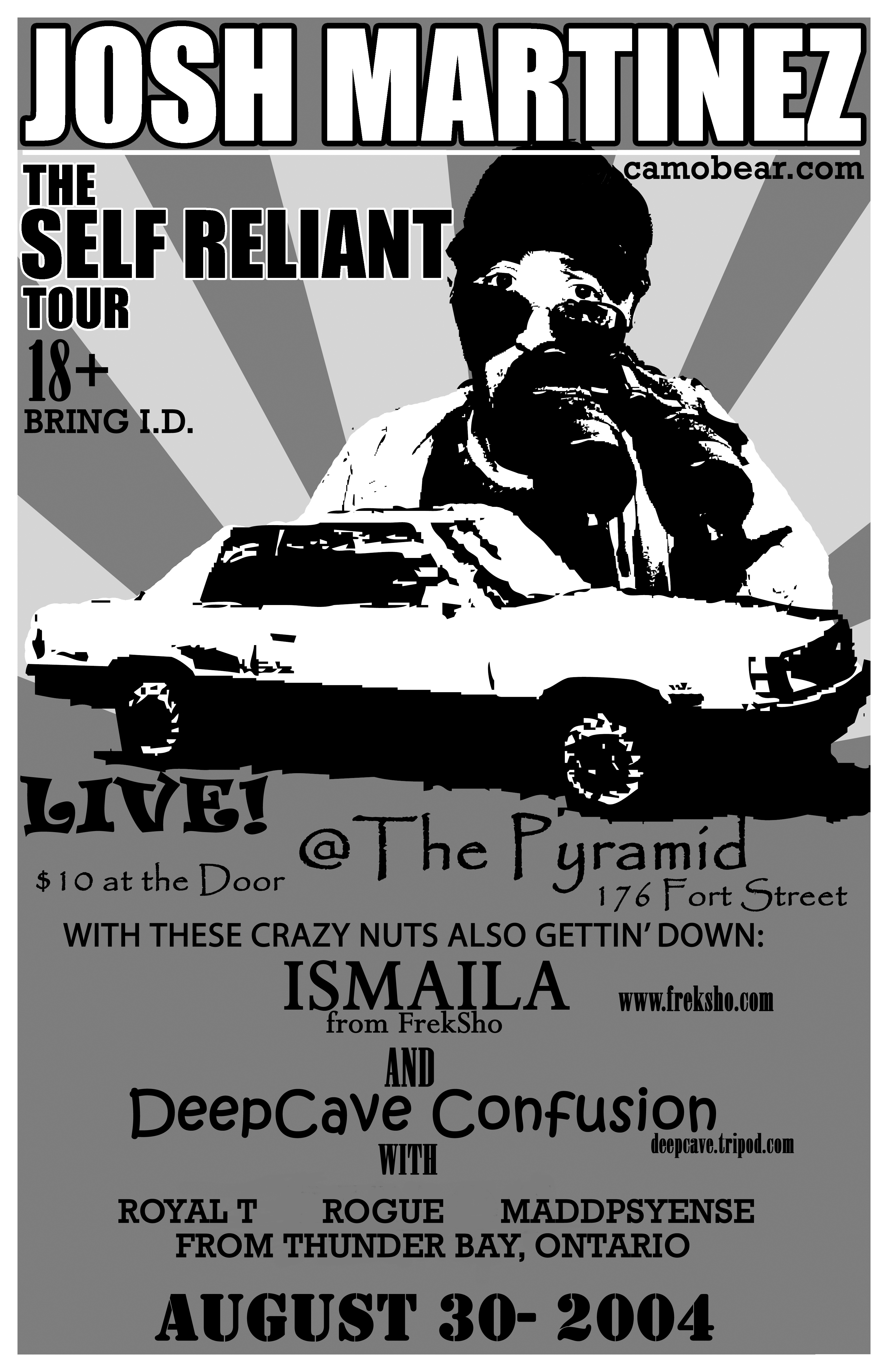 hahahaha.....
this show was the gay-est show ever.
josh told me there was to much rap then he add some fag guy and his hommies john smith and pip skid (without even asking me) "FUCK JOSH HES A FUCKEN FAKE FAGGG" from the mouth of Big Bear
August 30, 04 @ Pyramid
Josh Martenaz(i know i spell ur name wrong hahha)
featuring.... Royal T, Nevermind, Webster Death, Maddscience(FAG #2), Big Bear, Telekinetics (Fag # 3), John Smith, Pip Skid, Ismaila
JUNE 11, 04 PYRAMID CABARET
Awol One (SHAPE SHIFTERS), Dj Moves
THE WHOLE DEEP CAVE CREW (bigbear, slopeye, dj poetics,40)
Royal-T, Webster Death, Nevamind
SOUND BARRIERS (gruf &dj brace)
DJ DIALOG & REZ ONE
(THE BEST UNDERGROUND HIPHOP SHOW EVER IN WINNIPEG)
August 28, 03 @ Blue Agave
peg city holla
soul series & ill rap series
f/ kamau(t-dot), rudimental, lisa bell, arinze, satchel paige, gruf the driud, 12seven, tamaraw, fascade @ 137db, arjay, yy, soso(sask), epic(sask) and me the bEAR 40z double dosen' oryan and dj Poetics.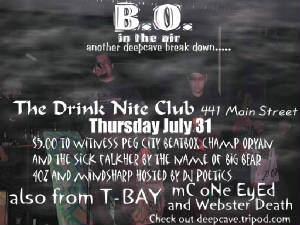 July 31, 03 the Drink Nite Club 441 Main
f/ biGbEAR oryan 40z dj Poeitics
also From Thunder Bay mc one eyed and Webster Death
April 4th 2003.
Collective Caberet
featuring/ Oryan, Haruki, Mindsharp, 40z, John Smith & Gruff.

Over five dollars in awesome prizes!!
2 ice cold OE's,
a pair of Velcro shoes,
Big Bear CD's
and the first ever, graffiti auction.
February 2, 2003
The Zoo Thunder Bay, Ontario
Big Bear and oryan
MuthaTruckaz ( Royal-T and MC One eyed )
Mindsharp
DMC's Round 1
January 3003...ummm...January 30th 2003.
(album release shmorg)
One thousand years in the making...
Big Bear's garbage can: using resources provided from the can.
feat/ Dj.Poetics, Orian, 40z, Jess.
Special guest Gruff the Druid.., and others.
Taking place at Bremors Bakery on Wardlaw, Winnipeg, MB.
cover: Five dollaz sucka!!
bring your mothers daughters and there friends, let's get dirty dirty...heh.
Discount albums this day only...
music: Five dollaz sucka!!
Collective Caberet, Ill Rap Jam

Icis Nizz and the Alien Hippie

f/Big Bear, Gruff The Druid & Butterfly Effect.

(this was a great show, if you missed it you suck)

The Pyramid

Headlina Tracks

f/Jellystone & Swollen Members.

(probabley my shitiest show to date, either than wrestling, heh, we got so intoxicated and Swollen Members were a no show, our set got cut off and near the end, people started a brawl)

Collective Caberet

Headlina Tracks

(before Co-op took it over and made it into what it should be, an ill rap jam)

Bremors Bakery

Headlina Tracks

f/Deep Mischief, Phoreal, Dj.Foe & Resone.

(this was ok, great turn out but a mixer got ganked and Deep Mischief got booted for smoking illegal substance during our set)

Pyramid Caberet, Search for RA

Headlina Tracks

(we lost, but the show rocked, it was us, some metal band and a folkish group, turnout about 30, haha)

Texas Connection

Headlina Tracks

f/Swindla, Yy, Escrow & Narc

(this was a good show but we got banned because someone tagged up the washroom, the man who owns it is a real ass)

The Royal Albert

Headlina Tracks

f/Moonshine & Moodruff

River City Wrestling

Headlina Tracks

(who knows when, where, haha, big mistake, we basically got booed off stage by three people in the front row)

Sept 21st, 2000, The ? Caberet

Headlina Tracks

(and a buch of other dates, I think we did about three or four shows there, we even got payed once, I think it was twenty dollers)

Cloud Nine Caberet, Plan B

Headlina Tracks

f/Brakata, Phoreal & Resone

(good show, good turnout)

Peg city Holla 2001

West End Cultre Centre

Headlina Tracks

f/Zion I, Moodruff, Dead Indians and others...

Wenesday Nov.22nd, 2000

Cloud 9 Caberet, Plan B

Headlina Tracks

(sunzoo we miss u, r.i.p. plan B, great show)

Peg city Holla 2000.

Le Rend' e' Vous

f/Juru the Damaja, Moka Only and others

(the first show ever)